Wazuh 4.3 è una piattaforma di sicurezza opensource rilasciata con licenza GNU General Public License 2 e Apache License 2.0 – AL2; integra SIEM (Security Information and Event Management), HIDS/NIDS (Host/Network Intrusion Detection System) e XDR (eXtended Detection and Response).
Nata come fork di OSSEC nel 2015, Wazuh ha rilasciato in questi giorni la versione 4.3.
Le principali funzionalità offerte da Wazuh in tema di sicurezza sono :
SCA (Security Configuration Assessment);
Containers security;
FIM (File Integration Monitor);
Incident Response;
Intrusion detection;
Log data analysis;
Regulatory compliance (PCI DSS, GDPR, HIPAA, NIST 800-53, TSC);
Security Analytics;
Vulnerability Detection;
Considerando le fuzionalità offerte, Wazuh rappresenta un ottimo strumento nell'ambito della cyber security, fornendo capacità di prevention, detection e response.
Novità della versione 4.3
La versione 4.3 introduce due importanti novità:
Wazuh Indexer
Wazuh Dashboard
Questi componenti sono basati su OpenSearch, un progetto open nato come fork di ElasticSearch; in particolare, l'Indexer è il motore distribuito di ricerca ed analisi per tipi di dati eterogenei, mentre Dashboard è il front-end per la ricerca e visualizzazione dei dati indicizzati nell'Indexer.
L'installazione della piattaforma Wazuh è modulare: potete installare la piattaforma integrata con Indexer, Server e Dashboard, creando una piattaforma altamente integrata. Oppure, Wazuh, considerando gli ambienti etrerogeni a cui l'informatica di oggi ci ha abituato, può essere installato con OpenSearch, piuttosto che con lo stack Elastic o con Splunk.
Nella versione 4.3, Wazuh ha ridisegnato l'interfaccia relativa alla vulnerability detection, includendo anche il supporto a Amazon Linux (ALAS e ALAS2) e ArchLinux.
Sono stati aggiunti anche il supporto alla collection di log da Office365 e GitHub; allo stesso modo sono stati aggiunti nuovi decoders/rules per l'analisi e il rilevamento di minacce.
È stata inoltre migliorata la sezione MITRE. MITRE ATT&CK® è una knoledge base di tecniche e tattiche di attacchi informatici basati su osservazioni del mondo reale. La versione 4.3 di Wazuh ha infatti migliorato la navigazione tra i diversi gruppi di minacce, mitigazioni, software, tattiche e tecniche. Sono state anche aggiornate le mappature con nuove regole di rilevamento.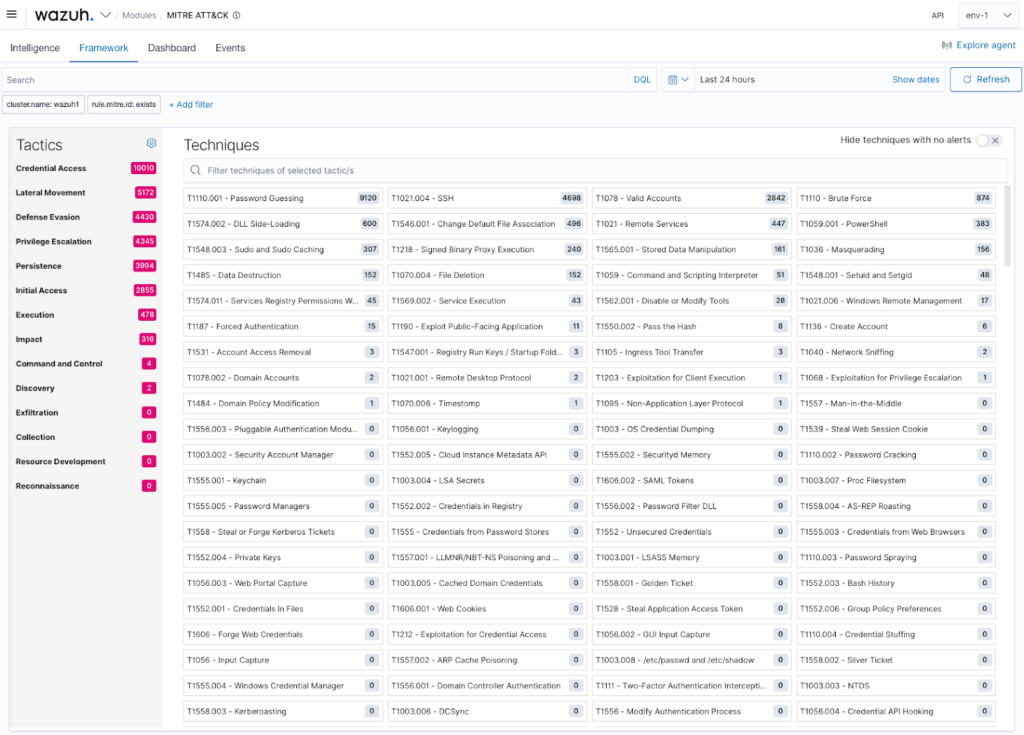 Potete trovare a questo indirizzo le release notes complete del rilascio della versione 4.3 di Wazuh.
Nei prossimi articoli vedremo come installare la piattaforma Wazuh, partendo dall'Indexer, passando al Server e infine alla Dashboard.
Potete trovare esempi dettagliati di installazione, configurazione ed utilizzo di Wazuh in questi articoli.
Thanks to Santiago Basset and his team for this new release !!!